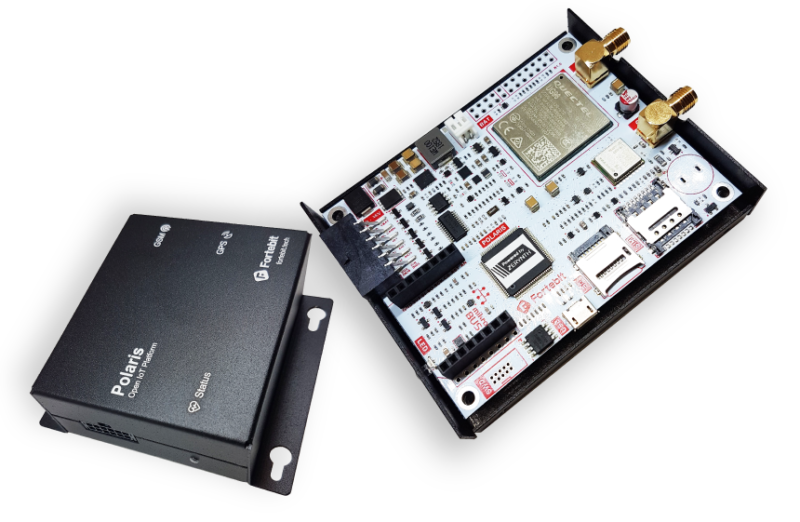 Polaris can function as a GPS/GLONASS vehicle tracker, available with 2G, 3G, LTE, NB-IOT modem, but it's so much more, too. It is a Python programmable open IoT platform, ready to connect to the Cloud with just a few lines of code.
Polaris is designed with features like geofencing, real-time tracking, analog sensors, external commands, audio, and SMS.
Polaris is the evolution of the OpenTracker, the most popular open-source vehicle tracker board in the world, which we developed in 2014.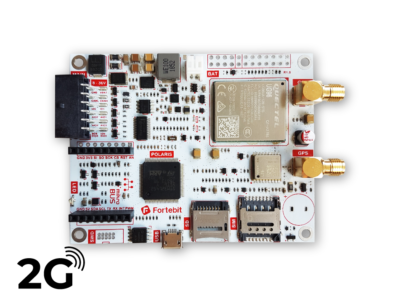 Advanced features
The default software includes many advanced features such as real-time tracking, geofencing, analog sensors, CAN bus, battery monitor, external commands, audio, SMS, and many others. It works right out of the box as vehicle tracker; the only requirement is a SIM card.
Polaris also allows you to add a Li-Po battery, and run it without the car battery. For example, it can be added to a bicycle, thanks to that external power source.
Thanks to the sensors inputs it can be connected to various sensors. The sensor data can then be easily sent to the Cloud. This makes Polaris ideal for industrial machinery where it is required to measure things like oil pressure, crane positioning, and so on.
When it comes to expandability, Polaris is quite versatile. There's plenty of digital and analog I/O, audio connectors, and a MikroBUS slot which allows you to take advantage of more than 600 Click boards. This means you can add all sort of functionalities to Polaris: from OLED buttons and UV sensors to motor control and motion sensors.
Python programmable
With IoT in mind, we couldn't think of a better programming language than Python. That is why Polaris is Zerynth-powered and Python programmable.
Thanks to the Zerynth license onboard you can program it in Python right out of the box. Zerynth also allows C/Python hybrid programming.
The full Python application is released open-source.
Zerynth has a really small footprint. It requires just 60k-80kB of Flash and 3-5kB of RAM. Zerynth also integrates the RTOS of your choice with multithreading support. When it comes to security, it offers support for HTTPS, SSL/TLS, secure hardware encryption, and Blockchain.
Fleet Management Cloud
If you want to track a whole fleet of vehicles at once, you'll be glad to know that we will soon be releasing a Fleet Management Cloud platform.
All you need to do is connect your smart cars and vehicles. Afterward, you can easily store and analyze the gathered vehicle data.
The hardware is pre-programmed and able to send tracking data right out of the box; you will only need the SIM card and to register the device on our online tracking software. After the configuration is complete, you will see your device on the map.
Soon we will launch our Fortebit Cloud that will offer an advanced and fully customizable Fleet Management Cloud service for all Polaris and OpenTracker customers.
Features
Power supplies
Main power input 8-36 VDC (2A max), compatible with 12V/24V systems/vehicles
Backup battery input 3.6-4.2 VDC, for rechargeable Lithium cells
Internal 3.3V and 5V supplies for add-on modules
Several low power modes (down to <50uA)
Wireless interfaces
3G Modem (5-band UMTS/HSPA, 4-band GSM/GPRS/EDGE, global coverage)
GPS/GLONASS Receiver
Connectors
2 SMA antenna connectors (GSM, GPS)
Socket for micro-SIM (modem)
Micro USB device port for MCU diagnostics/programming
Standard SWD debug header for MCU
Main power supply and I/O connector (2×6 pins, Micro-FIT type)
Storage
Socket for micro-SD card (full 4-bit interface)
Quad-SPI Serial Flash
Storage
3-axis Accelerometer
MCU temperature
Indicators
On-board status LED (controlled by MCU)
Stand-alone or in a kit
Polaris it is available as a stand-alone product and in a kit. The board comes in three versions: 2G, 3G, and NB-IOT. Of course, the kit includes everything that you need to install Polaris right out of the box. You can choose between two kit options: with a Li-Po battery, or without it.
It is ready to be used as a vehicle tracker. Because of its wide voltage input, it can be used on motorcycles, cars, trucks, heavy machinery, etc. Polaris offers several low power modes (down to <50uA), perfectly suited for IoT and industry 4.0 devices and applications.
The Polaris 3G Kit includes:
Quadband 3G version of Polaris
Black Polaris aluminum casing
GPS/Glonass/GSM antenna
Connector cable