I'm fascinated by the Robo-One Light champion robot design most recently dubbed "Centauro" — previous incarnations have gone by such names as "Hiten". It's interesting because as far as I can tell, it uses only four servos per leg. There are two at the top of each leg: one swings the leg out to the side, and one bends the upper leg forward (using a parallelogram linkage, so the knee stays level with the hip). One servo in the knee bends the lower leg backward, again using a parallelogram linkage. And one servo in the foot bends the foot sideways, countering the same axis rotation at the hip.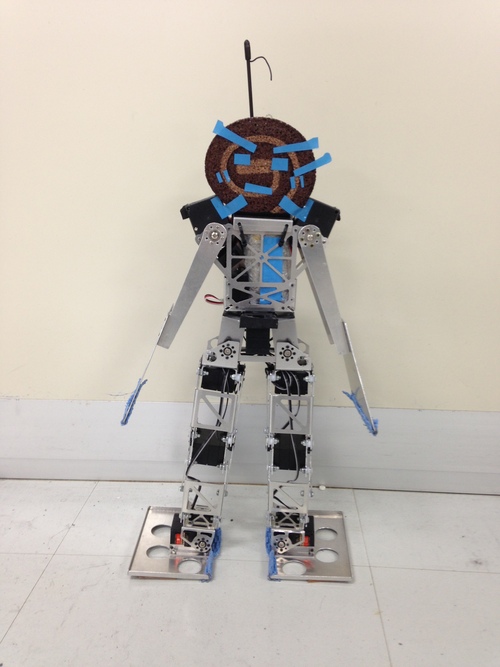 The end result of all this is that the robot can squat either leg down, just like we do, or stick a leg out to the side, while keeping the foot flat on the floor. You can see that in this image (though one foot is still tilted up here):
The weird thing is, there is no servo in the legs to rotate them around a vertical axis. No "twist" at ankle or hip. Now, in practice, the robot gets around mostly by crab-walking sideways, as is pretty typical for Robo-One robots. But it's certainly able to turn, and quite nimbly. (You can watch it in action in
this video
.)
I don't understand how the robot is able to turn without any leg twist. For that matter, I don't see how it could possibly walk forward/backward either, and I thought this was a requirement to qualify for Robo-One.
Anybody have any insight?
Thanks,
- Joe