Hello All,
I would like to introduce the Robosavvy community to the Farrell Robotics Humanoid. This robot has 23 degrees of freedom including rotation and bending at the waist and independent leg rotation. All of the servos are robotis DX-117's. The brackets are fabricated out of 5052 aircraft aluminum (.05").
Most of the specs can be found at the
Farrell Robotics website.
But if you have any questions feel free to ask!
Here are a couple pictures of the bots: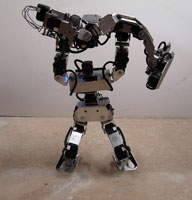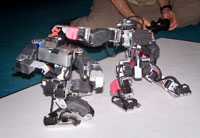 I have also compiled a video of the robots wrestling. While at first the battle vs. the RN seems to be cropped to only show the knock-overs, I can assure you that I was simply taking out the time in between as I waited for the RN to stand up again.
YouTube version
:
A higher resolution version can be found at
FarrellRobotics.com
on either the
video page
or the
Farrell Robotics Humanoid Preview page
Farrell Robotics is run by myself (Chris Farrell) and forum member Bullit (Rob Farrell). Farrell Robotics is not a commerical site at this time, we are in it to learn and share with others.
I hope everyone enjoys the video!
-Hive